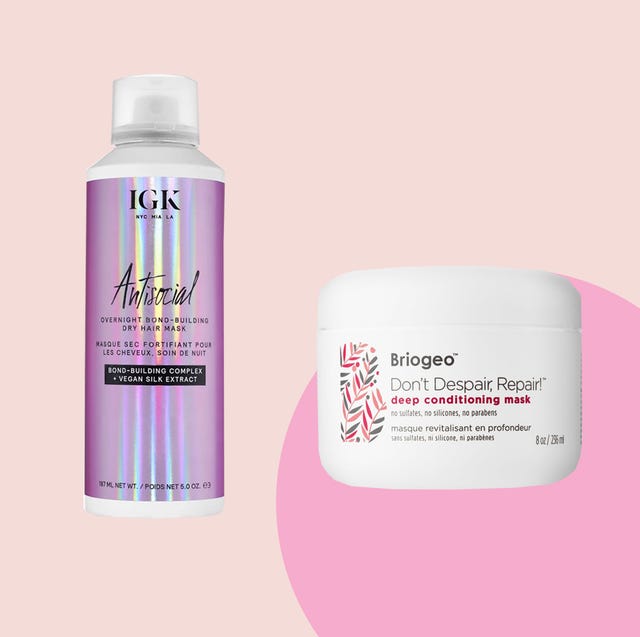 Courtesy of brand
The best hair mask can transform your strands overnight. Seriously, no other haircare product has as much power as this. Once you've determined exactly what your locks are lusting after, be it hydration, vitamins, or a colour boost, you'll be able to get your hands on the right remedy, right here. We've honed in on the best hair mask for dry hair, bleached hair, split ends and frizz.
We've found the best hair masks for dry hair like the uber-nourishing Philip Kingsley Elasticizer Deep Conditioning Treatment, for bleached hair with Olaplex's Hair Perfector No3, that has been proven to help repair hair's broken bonds. If you're struggling with split ends, be sure to check up Bleach's Reincarnation Mask or if your locks are bleached blonde, you'll want to test drive Davines Alchemic Conditioner for a fresh tone, and for fine hair, there's a mask for you too with Percy and Reed's Wonder Overnight Recovery.
Here are 17 of the UK's top-rated hair treatments, tried and tested by us…
Oh, and if you're a sucker for a mighty mask (uh, obvs) be sure to hit up our definitive guide to finding the best face mask, too. We love them so much, we'll take them in any form.
Advertisement – Continue Reading Below
1
Best hair mask for brittle, broken strands
Reincarnation Mask BLEACH LONDON cultbeauty.co.uk
£7.50
Wow, this mask does exactly what it says on the tube, it brings frazzled, dry, dead locks back to life. The smoothing nourishing formula seems to tame and nourish the most stressed-out strands, (think, bleached and broken). Not only does it work wonders, but it's also vegan and cruelty-free. Oh, and the best bit? It's under a tenner. 
2
Best hair mask for bleached or coloured hair
Olaplex No.3 Hair Perfector Olaplex lookfantastic.com
£26.00
Olaplex hit the UK a couple of years ago and quickly revolutionised the way stylists approach hair colouring. It works by protecting strands during the bleaching process, strengthening, conditioning and literally reconnecting the hair's structure where broken… All that means no more damage when it comes to bleaching. Yes really. The results of the treatment are prolonged with this at-home mask that offers continuous protection from ongoing everyday damage.
3
Best hair mask for curly hair
Don't Despair, Repair! Deep Conditioning Mask Briogeo cultbeauty.co.uk
£30.00
Hold tight curly girls, finally a mask that surpasses expectations when it comes to conditioning coils, repairing damage and hydrating the hell out of your hair, Briogeo's Deep Conditioning Mask takes the biscuit. Why? 98% natural, nourishing ingredients, like avocado oil, sweet almond oil, lemon oil and biotin target all the stresses associated with curly strands. It's also free from parabens, silicones, and all those other bad bits. 
4
Best hair mask for smoothing
Moisture & Control Deep Treatment Masque, 250ml Oribe net-a-porter.com.uk
£57.00
The mix of shea, cupuacu, murumuru and mango seed butters work as the ultimate butter band to ease detangling and lock in moisture. Dry, brittle hair can lead to breakage so this is key for any dehydrated strands. After use, no matter how thick or curly your hair is, you can run your fingers through with pure ease. 
5
Best hair mask for shine
Pure Hydrate Superfood Mask Pureology cultbeauty.co.uk
£28.55
Hair care brand, Pureology, have built up quite the cult following across the internet. From beauty YouTubers to hair stylists, everyone seems to love the intensive, hair-transforming formulas, and this mask is no exception. Designed to repair hair, this creamy formula helps to moisturise strands and ensure they're soft and shiny.
6
Best hair mask for travelling
Biolage HydraSource Dry Hair Deep Treatment Pack Biolage feelunique.com
£10.50
Pop this in your bag for your next staycation and your hair will thank you. These handy, portable packs from Biolage have 3-4 applications in them and they are great for applying after swimming or activities that leave your hair feeling not so fresh. This deep treatment pack has aloe vera and superfood spirulina amongst its natural ingredients to help improve elasticity and strengthen the hair. Bonus that it only takes 3-5 minutes to work.
7
Best hair mask for colour boosting
Moroccanoil Colour Depositing Mask (Various Shades) Moroccanoil lookfantastic.com
£28.85
If your colour is looking a little stripped and could do with a pigment boost in between salon visits, this mask is a must-have. The amino acids and argan oil in the formula help to make strands look and feel healthier and the colour pay off really revives dying dye jobs. Simply apply post-was and distribute with a comb, then let it marinate for 5-7 minutes before rinsing.
8
Best hair mask for coily hair
Cantu Shea Butter Deep Treatment Masque
Kinky and coily girls, listen up. You need this masque in you wash day collection. It can be used as a 30-minute masque, a steam treatment mask or an overnight treatment depending on how you want to flex. Rinse it out with cool water and watch your coil spring into formation. Plus your hair will feel hella soft too.
9
Best hair mask for detangling
Ouidad Ultra-Nourishing Intense Hydrating Mask 230ml Ouidad lookfantastic.com
£32.00
Macadamia, sunflower, olive, and argan – the gang's all here for curl hydration. This mask is also packed with protein which is key for strengthening strands, especially if you've been going hard on the heat styling or chemical treatments. Coat your hair in this for 15 minutes and your locks will be so much easier to detangle when you step out the shower.
10
Best hair mask on a budget
Aussie Deep Treatment 3 Minute Miracle Reconstructor 250ml Aussie superdrug.com
£4.99
Hair treatments can provide so much moisture during cold weather, and this one instantly fights frizz. "Static hair can be the most annoying thing about your winter beauty regime. The static is caused by the fibres in hats and hoods as well as hot air which makes hairs stand on end after coming in from the cold. So winter is the ideal time to add a super hydrating deep treatment to your haircare routine. The moisture in Aussie's 3 Minute Miracle will restore strands and smooth down any static." Explains Aussie Ambassador, Ben Cooke.
11
Best hair mask for thick strands
OI Hair Butter Davines cultbeauty.co.uk
£24.00
For super-thick locks that need a deep condition, this rich hair butter is perfect. Brimming with high-grade natural ingredients, like nourishing roucou oil, it helps soothe dry, frizzy, brittle strands to give ridiculous shine and softness. Steer clear if you have fine hair though, as the intense formula could weigh down your locks. 
12
Best hair mask for dry locks
Philip Kingsley Elasticizer Deep-Conditioning Treatment Philip Kingsley lookfantastic.com
£19.00
Philip Kingsley originally created his infamous Elasticizer specifically for Audrey Hepburn. She requested an ultra-moisturising, repairing mask that would reconstruct her hair and keep it healthy and hydrated through the frequent colouring and styling sessions on movie sets.This mask will give straw-like hair a moisture hit like no other, plus it protects against UV damage even after washing. Clever, huh?
13
Best hair mask for fine hair
Percy & Reed Perfectly Perfecting Wonder Overnight Recovery Treatment (150ml) Percy & Reed lookfantastic.com
£20.00
This clever hair mask is unlike any we've tried before, the balmy cream is supposed to be applied to dry hair before you go to bed. Work a dollop through the roots-to-ends and it's instantly absorbed leaving no damp or sticky patches. It literally feels like there's no product in your hair – so you don't have to worry about messing up your pillowcases. 
The formula gets to work overnight, delivering proteins and moisture to dull, limp strands, wash it out come morning time and you'll be good to go. Genius.
14
Best hair mask for blonde hair
Alchemic Conditioner in Silver Fox Davines cultbeauty.co.uk
£22.00
If you're looking for speedy colour refresh, rest assured this tub has you covered. The clever, colour-based conditioning cream brightens blonde hair in a flash (10 mins, to be exact), imparting a brilliant shine and banishing brassiness on contact. It's enriched with hydrolysed milk protein, to put the health back into your likely battered, bleached locks.
15
Best hair mask for split, dry ends
OUAI Treatment Masque OUAI lookfantastic.com
£25.00
Jen Atkin, hairstylist to the likes of the Kardashians and Chrissy Teigen, knows a thing or two about what she's doing. This masque uses concentrated ingredients to intensely repair, hydrate and protect your hair. If split ends really bother you, this masque will reduce their appearance, reverse damage from heat styling and minimise future damage by infusing amino acids and keratin to strengthen each and every hair follicle. Not only will it work wonders, but it will add UV protection while making your hair soft and glossy with a beaut fragrance.
16
Best clarifying hair mask
Christophe Robin Cleansing Mask with Lemon Christophe Robin lookfantastic.com
£27.75
If your hair never feel clean enough, it could be that there's a build up of product on your strands, or your scalp is prone to oiliness. If that sounds familiar you need this hair mask in your life. The two-in-one formula acts as a shampoo as well as a hair treatment, it soothes and nourishes the scalp whilst hydrating, cleansing, exfoliating, and purifying the hair fibres.
17 IGK Antisocial Overnight Bond-Building Dry Hair Mask, £30
Best hair mask for the time-poor
BUY NOW
SpaceNK.com
Lazy girls, rejoice. IGK have made a hair mask we don't need loads of time for and don't need to save as a 'Sunday night treat'. This ultra-lightweight overnight dry mask includes a bond-building formula to strengthen and restore hair structure, and vegan silk to soften and repair hair, making it shiny while it's at it. It's also safe for coloured hair, frizz-controlling, hydrating and also gives a UV protection. It's conditioning and protecting against future pollution and heat damage too. The best part? There's no rinsing out, no time sitting around with wet hair, no re-styling, no nothing. IGK even say the fragrance will help you get to sleep- another win.
Victoria Jowett Digital Beauty Director Vic is the Digital Beauty Director here at Cosmopolitan.com/UK. Keeks Reid Contirbuting Beauty Writer Hi I'm Akesha, but you can call me Keeks.
This content is created and maintained by a third party, and imported onto this page to help users provide their email addresses. You may be able to find more information about this and similar content at piano.io
Advertisement – Continue Reading Below