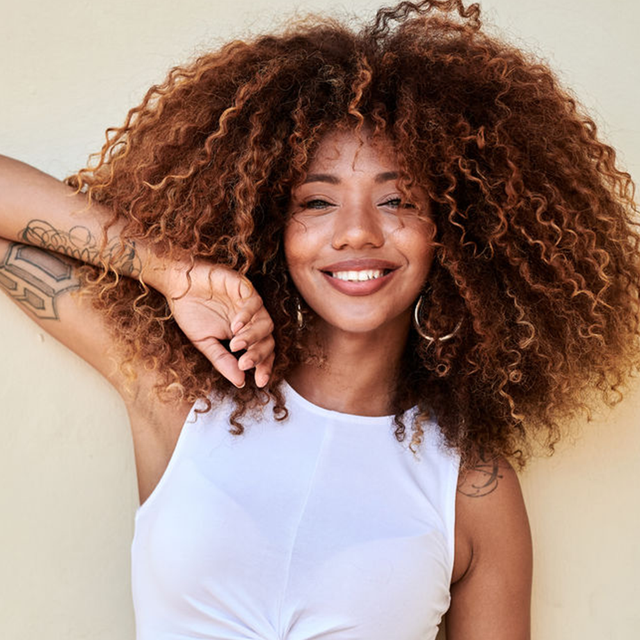 Stocksy
Me and my hair, we have a complicated relationship. I mean, I put her through a LOT—constant straightening, obsessive brushing, frequent washes, the works. The result? Dull, dry hair that's majorly damaged. And even though I've used a billion and one products to try and reverse all that damage—nothing's worked as well (or as quickly) as when I added a deep conditioner into my routine.
It makes sense, too, since deep conditioners are filled with a large concentration of super-hydrating and strengthening ingredients, like argan oil, keratin, and vitamin B5. TBH, all it took was one masking treatment to see a difference in softness, shine, and definition. But with all the deep conditioners on the market, it can be hard to find which one is your perfect match. Don't stress—I've rounded up the 15 best deep conditioners that will make your hair extra happy, ahead.
Advertisement – Continue Reading Below
1
Best Deep Conditioner for 4C Hair
Mielle Organics Babassu Oil Mint Deep Conditioner
4C hair needs a TON of moisture to live its best life, and this deep conditioner delivers. The oils in the formula, including babassu oil, add an intense amount of hydration (in a good way) to your curls without leaving them limp and sad.
2
Best Deep Conditioner for Bleached Hair
Davines The Renaissance Circle
My roommate, who recently went platinum blonde, swears by this deep conditioner. Whenever her hair is starting to feel parched, she adds this to her routine. The star of the formula is the babassu butter, which helps take her hair from super-dry to soft and silky, while still keeping her blonde color bright.
3
Best Drugstore Deep Conditioner
Aussie 3 Minute Miracle Moist Deep Conditioner
This drugstore deep conditioner is legit a miracle in a bottle—it's quick, inexpensive, and it actually works to hydrate TF out of your hair. Just smooth it through wet hair and wait three minutes for the avocado and jojoba oils to work their magic. You'll be left with extra-smooth and soft hair.
4
Best Deep Conditioner for Natural Hair
Briogeo Don't Despair, Repair! Deep Conditioning Mask
Think of this deep conditioner as a tall glass of water for textured hair. It uses a blend of oils (like rosehip, avocado, argan, and almond) to give your strands an insane boost of hydration. Post-shampoo, massage the mask from roots to tips, leave it on for five minutes, and rinse.
5
Best Deep Conditioner for Flat Hair
Shu Uemura Muroto Volume Pure Lightness Treatment Mask
You don't need to be using a million products to get the full, shiny hair of your dreams—trust me. This deep conditioner does it all at once. It contains a combo of volumizing ingredients plus sea water to both soften and hydrate your hair without weighing it down. 
6
Best Deep Conditioner for Dry Hair
The Mane Choice Heavenly Halo Deep Conditioner
This deep conditioner is the ultimate fix for dry hair. It's formulated with hair-loving oils (hi, umutanga and palmarose oils) that hydrate dry hair and keep it moisturized. To get all the smoothing benefits, rake the conditioner throughout your dry (yes, dry) hair and throw on a plastic cap. After an hour, rinse it out, and you'll be good to go. 
7
Best Deep Conditioner for Color-Treated Hair
Olaplex No. 5 Bond Maintenance Conditioner
This bond-repairing deep conditioner can't help you fix things with your ex, but it can repair damage in your hair from excessive hair coloring. The result? Shinier and healthier hair that has fresher, more vibrant color.
8
Best Deep Conditioner for Split Ends
Ouai Treatment Masque
If your ends are nearing frayed-rope status and you're not ready for a haircut, reach for this deep conditioner. It's formulated with artichoke leaf extract and tamarind seed extract, both of which help to lock in moisture and hide your split ends.
9
Best Single-Use Deep Conditioner
Pantene Pro-V Intense Rescue Shots Hair Ampoules
Infused with vitamin B5, lipids, and glycerin, this single-use deep conditioner is basically rehab for your hair. It coddles and minimizes everything from split ends to fried, dried sections of hair. But the best part? Each tube contains a single dose, so you know exactly how much you should be using.
10
Best Deep Conditioner for Over-Processed Hair
Kérastase Resistance Mask for Damaged Hair
We all have a friend who has a horror story about a chemical treatment gone wrong (hi, it's me, I'm that friend) that leaves them with completely destroyed hair. But the best way to deal with the drama without chopping it all off? This deep-conditioning treatment. It uses a combo of pro-keratin and ceramides to rebuild broken bonds along the hair shaft and smooth your ragged hair cuticle.
11
Best Deep Conditioner for Dry, Curly Hair
SheaMoisture Raw Shea Butter Deep Treatment Masque
Curly hair needs a ton of moisture, so your daily conditioner probably isn't getting the job done on its own. Enter this ultra-hydrating deep conditioner. It's formulated with shea butter, argan oil, and avocado oil to take your curls from dry and thirsty to moisturized, defined, and bouncy (and never overly greasy).
12
Best Deep Conditioner for Your Scalp
Head & Shoulders Royal Oils Deep Moisture Masque Conditioner
The MVP of this deep conditioner? Coconut oil. Not only does it make the formula smell amazing, but if you've got an itchy, flaky, or dry scalp, it'll also help to soothe and moisturize it. Use your fingers to massage the formula into your hair and roots, then let it sit for about five minutes. Once you wash it out, your scalp will feel instant relief…and your dry-ass hair will look noticeably happier.
13
Best Deep Conditioner for Thick, Curly Hair
DevaCurl Melt Into Moisture Matcha Butter Conditioning Mask
Your thick curly hair (#Blessed) has finally met its moisturizing mask. The magic: hydrating ingredients like matcha butter, sweet almond oil, and beet root extract that transform your brittle, stiff hair into soft, defined curls.
14
Best Deep Conditioner for Flyaways
Aussie 3 Minute Miracle Smooth Deep Conditioner
Over your flyaways? This mask can smooth and minimize them thanks to aloe and sea kelp. Both ingredients help flyaways lie flat and protect your hair from the frizzing effects of humidity in less time than it'll take to make your morning coffee (three mins, to be exact).
15
Best Deep Conditioner for Fine Hair
It's A 10 Miracle Deep Conditioner
If you have fine hair, you probably have some issues with the idea of a deep conditioner. I mean, they promise softness and smoothness, but they can also make your feel stringy, limp, and greasy. Thankfully, this deep conditioner won't weigh down fine hair, thanks to a lightweight combo of hydrating glycerin and aloe leaf juice.
Ama Kwarteng Ama Kwarteng is the Beauty Assistant at Cosmopolitan, covering all things hair, skin, makeup, for both print and digital.
This content is created and maintained by a third party, and imported onto this page to help users provide their email addresses. You may be able to find more information about this and similar content at piano.io
Advertisement – Continue Reading Below